Book clubs offer a great opportunity for friends and book lovers to gather (whether virtually or in person) to catch up and discuss a good book. There's only two problems with this activity and they seem to come up at every meeting: what book should the group read next and how do you find enough copies for everyone?
TBPL is here to help with our Book Club in a Bag service. Each bag includes 10 paperback copies of the same book, discussion questions for your group to ponder, author information, and book reviews. With almost 200 different titles available, there is bound to be one that is the perfect next read for your group.
Visit our online catalogue to place holds on book club bags as well as individual copies of any of the books mentioned below. If you're looking to view all of the book club bags available, simply click the link and search "book club bag". Any Library patron can place a hold on a bag for pick up at any of our open branches. These bags are loaned out for 8 weeks, which gives you and your book club plenty of time to read and discuss.
Every month, a new set of book club titles will be highlighted in The Book Club Hub post. This month features novels about residential schools. June is National Indigenous History Month, and it is the perfect time to educate oneself and learn more about the history of Indigenous people in our country, which includes the trauma of the residential school system. All of these stories tell different perspectives of the same trauma and hardships students faced before, during, and after their time at these schools, straight from some of the students who were impacted by these schools. While it may be a dark spot in our country's history, it is important to acknowledge and learn from these past mistakes. Here are this month's selections:
As Long as the Rivers Flow – Larry Loyie
Winner of the Norma Fleck Award for Canadian Children's Non-Fiction
In the 1800s, the education of First Nations children was taken on by various churches, in government-sponsored residential schools. Children were forcibly taken from their families in order to erase their traditional languages and cultures.
As Long as the Rivers Flow is the story of Larry Loyie's last summer before entering residential school. It is a time of learning and adventure. He cares for an abandoned baby owl and watches his grandmother make winter moccasins. He helps the family prepare for a hunting and gathering trip.
Blanket Toss Under Midnight Sun – Paul Seesequasis
A revelatory portrait of eight Indigenous communities from across North America, shown through never-before-published archival photographs—a gorgeous extension of Paul Seesequasis's popular social media project.
Moved and devastated by 2015's Truth and Reconciliation Commission's report on Canada's residential school system, journalist and activist Paul Seesequasis—inspired by his mother, a residential school survivor—wished to share the very different history he knew existed, of Indigenous communities holding together during even the most difficult times. He embarked on a social media project to collect archival photos capturing the everyday life of people in First Nations, Métis and Inuit communities from the 1920s through the 1970s. As he scoured archives and libraries, Paul uncovered a trove of candid images and began to post these on Twitter, where they sparked an extraordinary reaction. Friends and relatives of the individuals in the photographs commented online, and through this dialogue, rich histories came to light.
Blanket Toss Under Midnight Sun collects into one gorgeous, beautifully designed book some of the most arresting images and untold stories from Paul's project. While many of the photographs are in public archives, most have never been shown to the people in the communities they represent. As such, Blanket Toss is not only an invaluable historical record; it is a meaningful act of reclamation, showing the ongoing resilience of Indigenous communities, past, present—and future.
Fatty Legs: A True Story – Christy Jordan-Fenton and Margaret Pokiak-Fenton
The moving memoir of an Inuit girl who emerges from a residential school with her spirit intact.
Eight-year-old Margaret Pokiak has set her sights on learning to read, even though it means leaving her village in the high Arctic. Faced with unceasing pressure, her father finally agrees to let her make the five-day journey to attend school, but he warns Margaret of the terrors of residential schools.
At school Margaret soon encounters the Raven, a black-cloaked nun with a hooked nose and bony fingers that resemble claws. She immediately dislikes the strong-willed young Margaret. Intending to humiliate her, the heartless Raven gives gray stockings to all the girls — all except Margaret, who gets red ones. In an instant Margaret is the laughingstock of the entire school.
In the face of such cruelty, Margaret refuses to be intimidated and bravely gets rid of the stockings. Although a sympathetic nun stands up for Margaret, in the end it is this brave young girl who gives the Raven a lesson in the power of human dignity.
Complemented by archival photos from Margaret Pokiak-Fenton's collection and striking artwork from Liz Amini-Holmes, this inspiring first-person account of a plucky girl's determination to confront her tormentor will linger with young readers.
A Stranger At Home – Christy Jordan-Fenton and Margaret Pokiak-Fenton
Traveling to be reunited with her family in the arctic, 10-year-old Margaret Pokiak can hardly contain her excitement. It's been two years since her parents delivered her to the school run by the dark-cloaked nuns and brothers. Coming ashore, Margaret spots her family, but her mother barely recognizes her, screaming, "Not my girl." Margaret realizes she is now marked as an outsider. And Margaret is an outsider: she has forgotten the language and stories of her people, and she can't even stomach the food her mother prepares. However, Margaret gradually relearns her language and her family's way of living. Along the way, she discovers how important it is to remain true to the ways of her people—and to herself. Highlighted by archival photos and striking artwork, this first-person account of a young girl's struggle to find her place will inspire young readers to ask what it means to belong.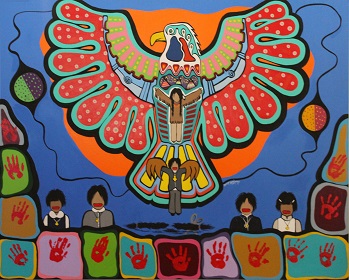 These stories may be from different perspectives, but they all tell the same woes of missing ones home, family, culture, and the only life they knew. Thunder Bay Public Library has many Indigenous stories kept in our Indigenous Knowledge Centre (IKC) of both fiction and non-fiction stories for all ages. Here you can find information about Indigenous history, culture, language, and more. There is a lot to be learned from reading the stories of other people's culture and history, and your local library is here to help with that.
Not in a book club? No problem! These books are also available as single copies in our online catalogue.
Book descriptions via GoodReads
Lindsay – www.tbpl.ca. If you have a comment about today's column, we would love to hear from you!